Wedding Gown Preservation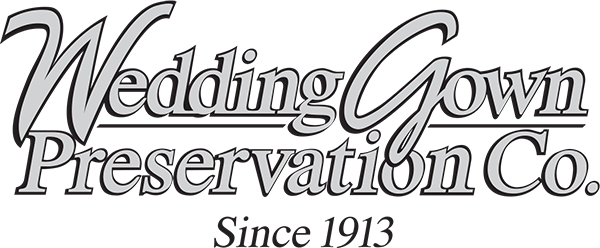 We are pleased to offer top quality wedding gown preservation. This service is offered through our partnership with the Wedding Gown Preservation Company; a family-run business based in Endicott, NY. They have been a trusted source for wedding gown preservation since 1913. Your gown will be professionally and thoroughly cleaned using their proven methods to ensure that most stains (both visible and invisible) are removed. Wedding Gown Preservation Company's modern lab and equipment preserve every gown with their proprietary treatment to prevent yellowing and discoloration. Your wedding gown preservation comes with a 100 year guarantee.
The Preservation Process
Your gown will be cleaned using 100% organic, completely biodegradable solvents with extra attention given to the neckline, trim and hemline. It is then shaped and positioned on a full bust form and fitted carefully into an acid-neutral preservation chest with an acid-free display window. Lastly, it is enclosed in a 700 lb. test shipping carton and shipped back to you anywhere in the continental U.S. via UPS.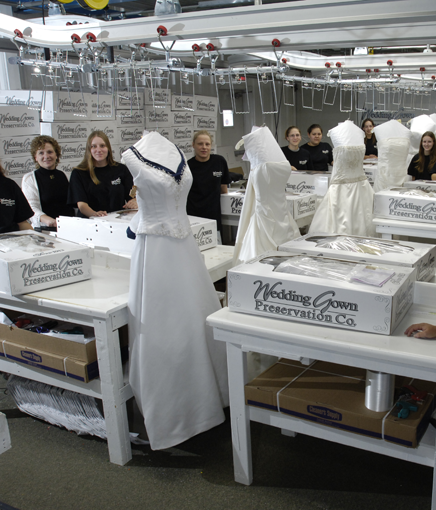 Depending on the season, the preservation process will be completed 2 to 10 weeks after your gown is received.
Restoration and preservation of older dresses is also available! Call for pricing and details. It's not too late to save that heirloom dress for the future!
Celebrity Line Upgrade
Celebrity line upgrade is recommended for all silk, couture or any gown valued over $1500. With the celebrity line upgrade you will receive:
$1000 additional declared value
Hand Pressing
Upgrade to a silver preservation chest
The bottom of your gown will be cushioned in unbleached muslin, creating a museum quality preservation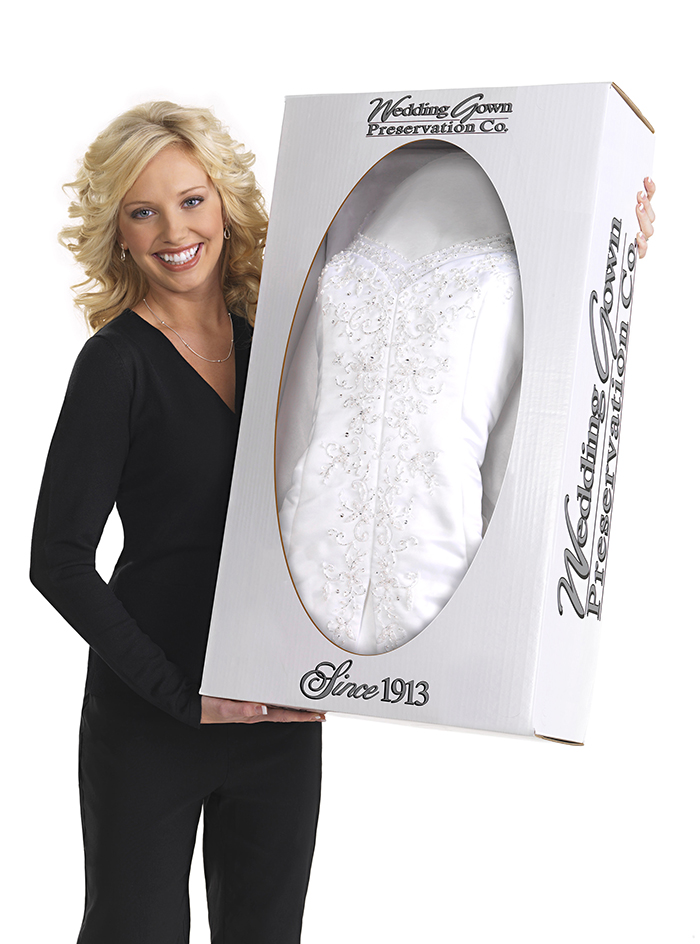 Wedding Gown Preservation – Frequently Asked Questions
Do I need to have my gown cleaned before sending it?
Wedding Gown Preservation Company will handle all the cleaning necessary to ensure a proper preservation.
What exactly is the process you use to clean the gown?
Wedding Gown Preservation Company has several different processes that are used in cleaning. Each gown is evaluated before cleaning and the best process for your particular gown is used. All of the processes are safe, organic and gentle. Please note: we do remove shoulder pads and bust forms, as leaving them in the gown could cause damage over time.
What stains are removed with your process?
We are able to remove at least 95% of all stains. Those such as tar, blood, grass stains, mud, grease and food are the most common, and of course, any sugar stains such as cake icing, wine or other types of beverages.
What can be seen through the display window?
You are able to see our gown and veil through the display window. Other items are positioned near the bottom of the window, where possible, or underneath the gown.
If I need to open up the preservation chest at any time in the future, will that jeopardize or void the guarantee?
Your guarantee will not be voided. However, you should take care to reseal the chest with the resealing materials provided. You should also use the enclosed gloves when handling the gown. If your gown is handled excessively or soiled, it should be cleaned and preserved again.
How much does wedding gown preservation cost?
Basic wedding gown preservation cost is $210. If you also bring in your wedding bouquet to be preserved you will receive a $15 discount on your wedding gown preservation. You may include up to three additional accessories with your gown. Examples include any of the following: Veil, train, hat, jacket, shawl, duster, cape, ring pillow, money bag, purse, handkerchief, gloves, garter or scarf.
You've gone to great lengths to find the perfect wedding dress. What will you do with it when the wedding is over? Make sure it stays pristine by preserving it using the best method in the industry.