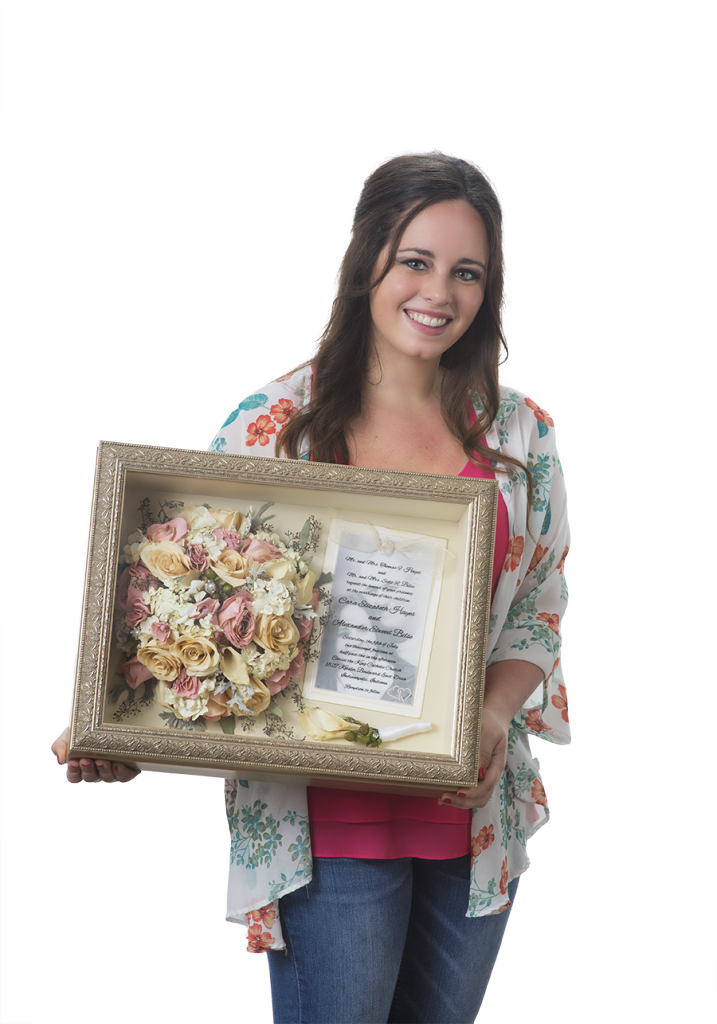 I first met Desna back in January 2013. My grandma had just passed away and our house was full of gorgeous flowers we received at the funeral home as well as the flowers sent to her grave site. I wanted to do something special with these flowers so I looked up preservation of flowers on Google and came across Desna's Designs. Even though it was an unfortunate circumstance to meet someone, Desna helped my mother and I come up with a way to preserve my Grandmother's flowers. She ended up making a globe encasement with a picture of my Grandmother and I, one of her rosaries, and her flowers in it. It turned out better than I would have imagined and it helps to remind me of all my fond memories with my Grandmother every time I see it. When my wedding came in July 2014, I knew I wanted to preserve my bouquet and knew I wanted Desna to do it since she did such a beautiful job the first time. The encasement turned out absolutely gorgeous and the flowers look amazing. The encasement contains my wedding bouquet, my husband's boutonniere, and our wedding invitation. It is a great way to look back on that day and remember all the special little details.
Desna is not only an amazing person, but is very talented. I was able to turn my wedding bouquet over to her without much direction on what I wanted and it turned out better than what I would have come up with. I trust her, and her judgment completely. She is very professional and kept me up to date on when it would be completed and of any ideas she came up with. She answered all calls/emails in a timely manner and always seemed very positive. I would recommend Desna for any preservation needs one may have and I will definitely be coming back to her in the future for any and all other projects.
Cara Bilse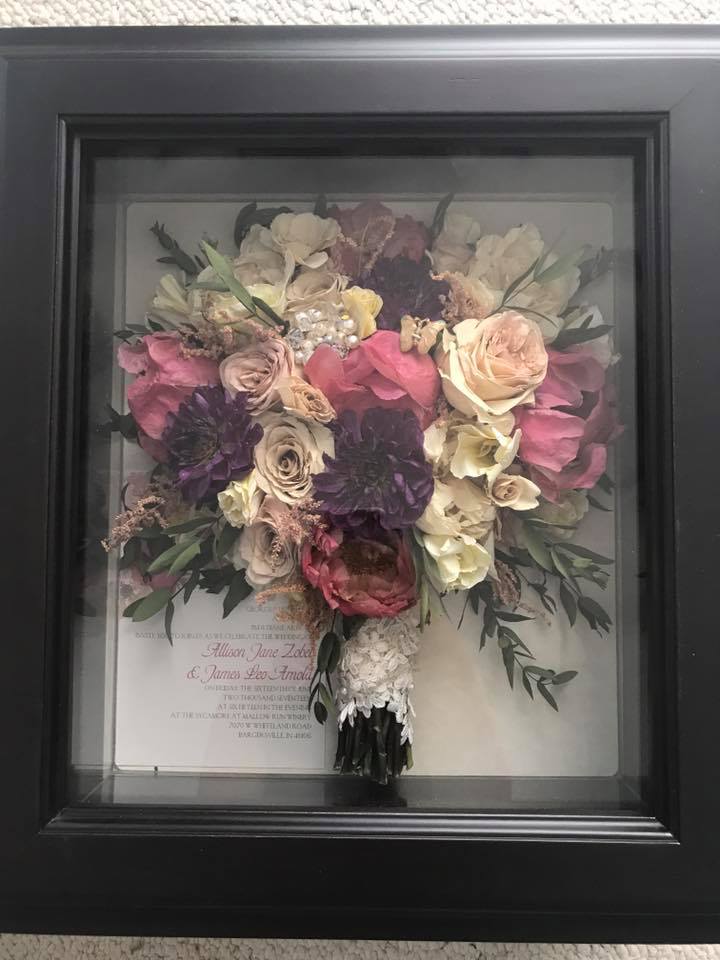 Desna is wonderful! From her caring personality to the professionalism of the product, you should expect nothing but an amazing experience. She is incredibly knowledgeable. You should listen to her suggestions. She knows what she is doing! My wedding bouquet looks BEAUTIFUL! I can't express how much this keepsake means to me! I also had two ornaments made, and they are awesome too! It's the perfect way to save gorgeous flowers from important celebrations. Thanks, Desna!!
Allison Arnold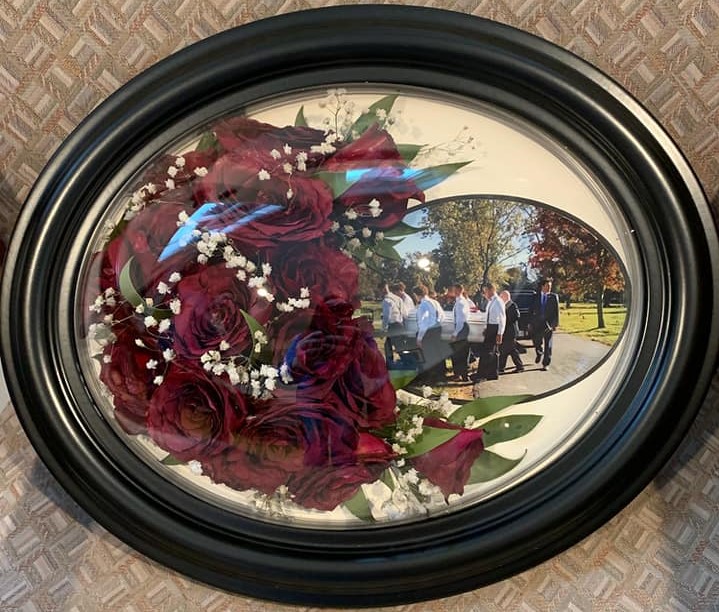 She took extreme care of our flowers and turned a very sad moment in to a beautiful piece of work. Very kind, creative and patient. It was a pleasure working with her!
Beth King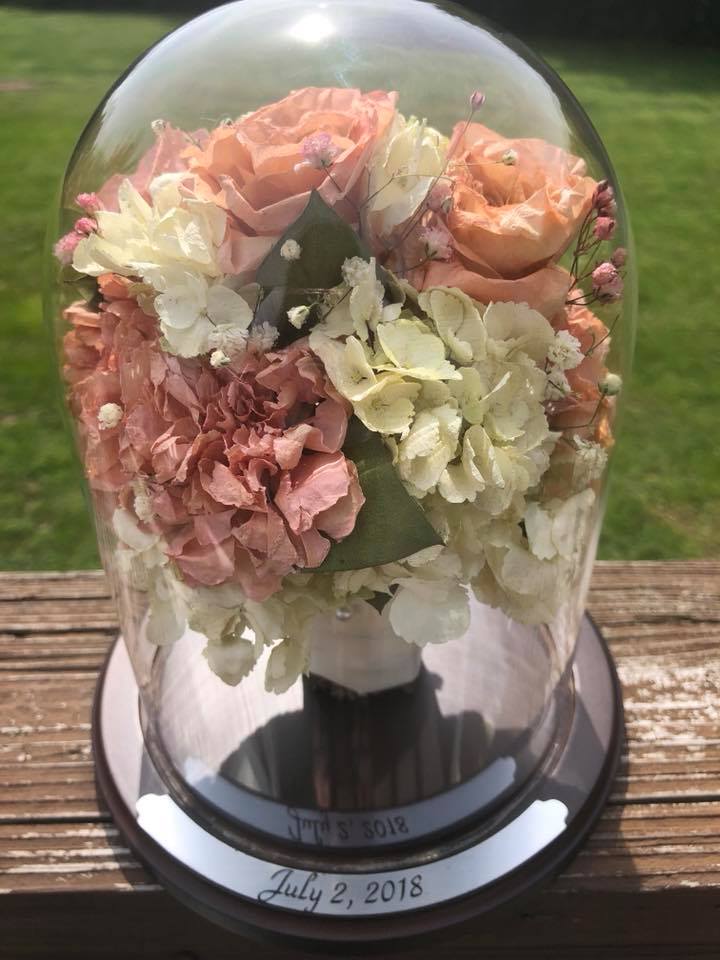 Have you ever thought, hmm can I keep my bouquet forever? YOU CAN!
A great family friend made my beautiful bouquet for my wedding, and I was completely in awe of it. I could not put it down! At the end of the night, I put it in our fridge and probably opened it very 4 hours to stare at it.
My mother in law suggested preserving it so I could have it forever! I jumped onto google and tried to figure out how to do it. I did about an hour of research until I felt the fear set in. What if I mess it up? I only have one shot at this, what if the flowers don't dry correctly? What if my cats end up killing the bouquet while it's drying? About 200 different scenarios popped into my head.
I then asked my family friend who made the bouquet and she told me about companies who do it for you! Back to google I went and I found Desna's Designs.
I emailed Desna and she got back to me in record time! We made an appointment to go talk about what we wanted to do with my bouquet. She explained everything perfectly and I'm so much detail! I knew exactly what was going to be happening to my bouquet and how it was going to look. I got to decide what size, where I wanted what flowers, what flowers I wanted to keep etc.
Desna was an absolute pleasure to work with, and she is very personable! She made sure that it was going to turn out the way I wanted, and after that she gave me a time frame. It was a few months, but to me, perfection can not be rushed!
I got my bouquet back about 6-8 weeks after I dropped them off (way earlier than expected!).They are absolutely GORGEOUS. It is exactly what I wanted and more. I get to cherish this beautiful bouquet for the rest of my life, thanks to Desna!
For someone who had NO IDEA what I was doing or how it would happen, I am so so glad I went to Desna to preserve my bouquet!
Jana Quillin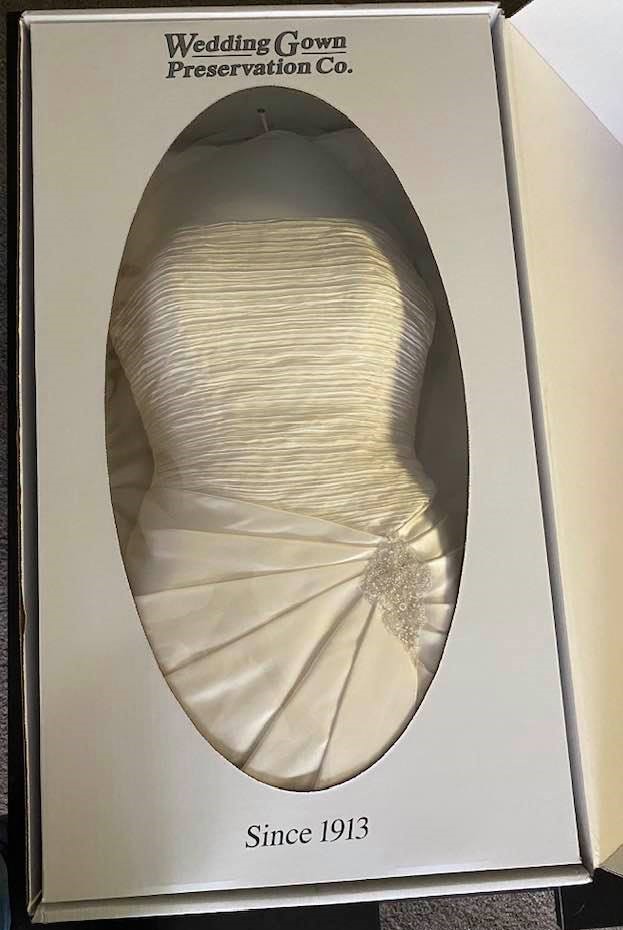 Had my wedding dress preserved. I think it turned out so pretty!! Thanks Desna!!
Angie Mullen
I met Desna a couple of years ago when I went with my sister to meet her after my brother in law passed away. We took flowers from his funeral and Desna was absolutely perfect with such a sensitive moment. She took the time to make sure every detail was exactly what my sister wanted to honor him. She did not disappoint. She even included a mushroom in the memorial for her. We couldn't have asked for anyone better to help us. The finished product was perfect. I liked her so much, I decided I'd take my bouquet to her from a pageant that I was a part of. Again, she went above and beyond any expectation I had. If you're looking for something to remember a special time in your life, look no further than Desna's Designs. Desna is someone you can trust to preserve those times in your life. Thank you so much, Desna!
Kristen Linton
My flowers were from my father's funeral. Each design unique, they were all absolutely beyond what I could have imagined. Desna was so nice, professional and compassionate. It all shows in her work. I will receive much joy and have wonderful memories for many years to come whenever I look at these amazing beautiful arrangements. Thanks Desna ❤!
Kristy Everhart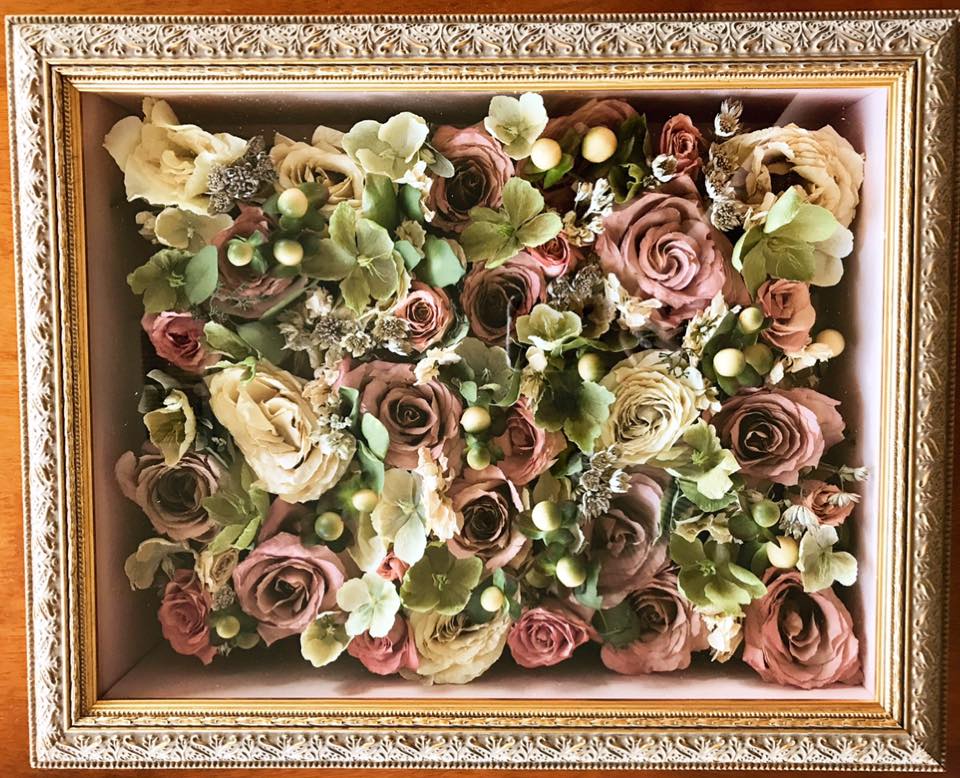 I absolutely loved working with Desna! From the first phone call, she was so helpful addressing my questions, and when I met with her, she helped me pick out exactly what I envisioned for my wedding bouquet. I also had my wedding gown, veil, and garter preserved through her as well. The products turned out better than I imagined, and my preserved wedding flowers have been complimented by my family and friends. I definitely recommend her!
Sarah Pottratz
My husband and I made an approximate 2 1/2 hour road trip from Southern Indiana yesterday to pick up the wedding bouquet shadow box Desna made for our daughter, and believe me it was so worth it!
It is absolutely beautiful, and our daughter is thrilled! The preservation is perfect!
Desna has been an absolute pleasure to work with from day one! She is a true artist, as well as being spot on responsive and professional. Our communication was seamless throughout the whole process.
I wholeheartedly recommend her, and would absolutely make the trip for her beautiful artistry again!
Thank you so much Desna for so beautifully preserving this precious memory for us, and for being an absolute joy to work with!
Laura Trinkle Couch
I am thrilled with the work that Desna did to preserve my wedding bouquet. My bouquet was especially important to me because my Sister created it. Desna listened to my requests for the design, and using her experience was able to make a lot of great suggestions. She was able to preserve the color and shape of my complicated bouquet beautifully! The flowers are still vibrant and beautiful, and I love that she was able to feature the tiny photos of my Mom on her wedding day that were suspended from the arrangement. I'd recommend that anyone wanting to preserve precious flowers use Desna and her company!
Evie Mosbacher
Desna did a beautiful job preserving my wedding bouquet! The flowers had kept such a lovely shape and color. It looked beautiful in the shadow box, which Desna allowed me to customize. She also used some flowers from my bouquet to make a lovely ornament that I can display year-round. Desna is very easy to work with and made the process go smoothly. I am very happy that I chose Desna's Designs to preserve my bouquet!
Kristen Shoemaker
Desna is amazing!! She truly cares to make your dream come true to keep your flowers forever. She makes beautiful arrangements. I had no worries that she was going to create a gorgeous piece from my wedding bouquet. My florist recommended her and when I first reached out to her, she had me come in the same day to get my flowers to her ASAP. I received my flowers 3 weeks later. When I got home and placed my arrangement in its spot, tears filled my eyes. I have something to cherish forever.
Megan Hutton
Desna designed and executed a beautiful keepsake with my wedding bouquet and a few other wedding trinkets. The final product is absolutely gorgeous!! It was worth the wait and worth every penny. Plus, Desna is just the sweetest and so easy to communicate with. I highly recommend.
Amanda Peterson-Long
I could not recommend Desna's Designs enough if you are looking into flower and/or wedding dress preservation. Desna created a work of art with my wedding bouquet and I could not be more happy with how it turned out. We contacted her the day after my wedding and she replied immediately and was able to meet next day to start the process. The entire process went so smoothly and she was extremely helpful & professional the entire time. I will definitely be recommending her to everyone I know!
Jessie Hicks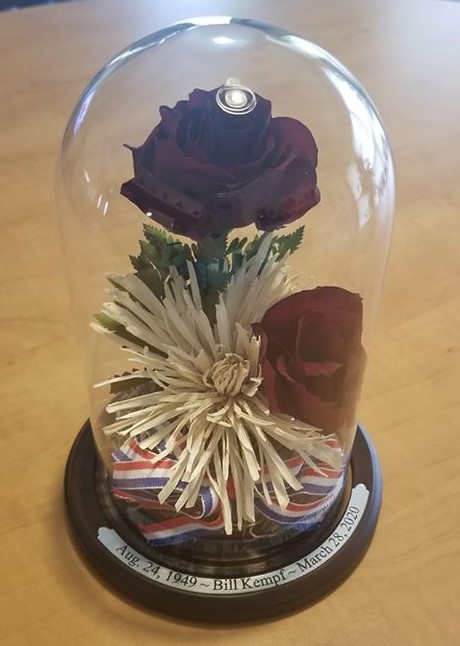 I highly recommend Desna's Designs! She made a beautiful keepsake with flowers from my father's funeral. Even though I didn't have direct contact with her because of the Coronavirus pandemic, she communicated very well through text messages, and sent different photos to help me decide exactly what I wanted to do.
Amy Fields
I contacted Desna the day after our wedding. She was quick to respond and willing to meet the following day to begin preserving my flowers. She was so easy to work with when we arrived to decide how to preserve them. And the final product turned out amazing! We are so happy to have the shadowbox and ornament to keep as a keepsake of our day. Thank you, Desna!
Alex Ludwig
These were preserved flowers from my mother's funeral. They are beautifully arranged and saved for each of us for many years to come. Desna did different pieces from the funeral. Each of us chose and designed what we wanted and Desna was perfectly respectful and sympathetic to this difficult time, yet helpful with ideas. She can do any type of keepsake and is wonderful to work with.
Rhonda Zerbe
Desna was so great to work with! I highly recommend her! It had always been a dream to have my wedding bouquet preserved. I just got it back and it looks absolutely amazing! I knew what I had wanted, but didn't know the style I was looking for. Desna helped with giving me options and showing me what certain things would look like so I could easily imagine it. It looks better than I could have imagined and I'm so excited to get my shadowbox hung up on the wall!
Katie Pruitt
Desna is so incredibly talented in her work! Each interaction was lovely and she made it so enjoyable (and fun!) to pick out options for preserving my bouquet! The day I picked up my shadow box, all the flowers looked as magnificent and as perfect as they did the day of the wedding!! Highly recommend!!
Maddie Helsloot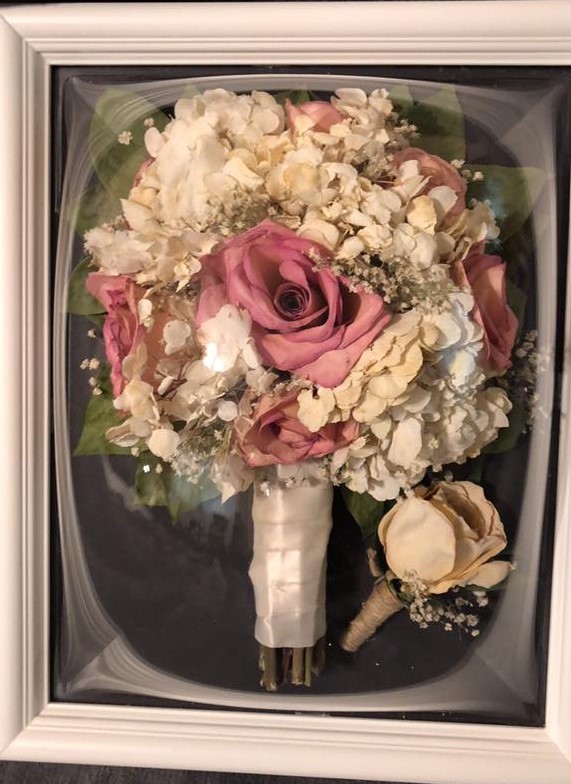 I definitely recommend Desna. She is amazing and very talented. My flowers look just like they did the day I got married. Thank you Desna for preserving my flowers, and making them look like they did from day one.
Lizzie Eads
Desna did an incredible job with the wedding bouquet. Everything was absolutely perfect, and she was extremely accommodating with the timeframe that I needed. I highly recommend her service!
Rebecca Detro
Desna did an AMAZING job preserving our wedding flowers! I couldn't have asked for more artistic beauty in the way that she has displayed my bouquet, wedding invitation, and my husband's pocket square. Because pale yellow flowers were in my bouquet and really in our flowers throughout, it was a challenge to preserve that yellow. Desna made this challenge look easy! The yellow flowers look so beautifully preserved. She also has these adorable little ornaments that she can make as well, and ours just looks awesome with the yellow rose as the centerpiece of it. On top of all of this, she is kind, responsive, and professional. Thank you Desna, and to whomever it looking for someone to preserve flowers, I highly recommend!
Kyleigh Garner
Desna was phenomenal. She met with me on very short notice and re-created my wife's bouquet from 2003. Her bouquet was stephanotis flowers. Then she preserved it so it will be a timeless remembrance for my wife, who had kept her decaying bouquet because it meant so much to her. Desna completed this in weeks and used her contacts to find the flowers, which are very difficult to find this time of year. Desna was personable, professional, and kept me in communication throughout the process. I highly recommend Desna Designs!
James Long
Desna did such an awesome job with my bridal bouquet… I had quite a big ask, as I wanted the entire thing preserved (stems and all) in a very large box casing. Highly recommend her for your preservation needs!
Marina Blackburn
Excellent service! I came with my original wedding bouquet to preserve and Desna did an amazing job! I recently had to go back because my preservation box fell and broke. The repair was very quick with turn around time and the bouquet looks amazing! As if it never broke! I highly recommend her to anyone needing flowers preserved!!
Ashley Marie
My dad had always given my mom yellow roses whenever he sent her flowers as they were her favorites. So as we all had just sat down at the cemetery, before the preacher began his final words a final yellow was delivered to my mom as one yellow rose fell from the mixed fall flower casket spray to her feet. We knew dad had delivered her one final rose before he was put to rest. We were so glad to have Desna's Designs preserve this last gift from my father to my mother. It is so special to our mother thank you so much for preserving his final gift.
Bruce Gatewood
Desna did an amazing job of preserving and arranging our flowers and other trinkets from our wedding day! She completely customized everything to be exactly what we wanted, and we couldn't be happier with the outcome. She also beautifully cleaned and preserved my wedding gown. My husband and I both highly recommend Desna to everyone!
Autumn Neal
They do beautiful work! They were also very kind during this difficult time for our family.
Tanna Shafer
Stunning, high quality work. Absolutely love my flowers and will add such lasting beauty to my home.
Catherine Miller
I took my wedding bouquet to have it framed & it looks amazing!
I am so glad I decided to have them preserved. Thank you Desna! Would highly recommend to anyone!
Anna McFall
Desna has done an amazing job preserving my big giant cascading wedding bouquet. She is amazing to converse with and really captured the depth of my bouquet. I can look at my display from different angles and see different aspects of the bouquet and I just love it!
Scottie Pouliot
Desna did AMAZING with preserving funeral flowers and keepsakes that we will cherish forever. She worked with me on ideas and was so creative and timely with everything she did – we so appreciate all of your time and work.
Bailey Wisehart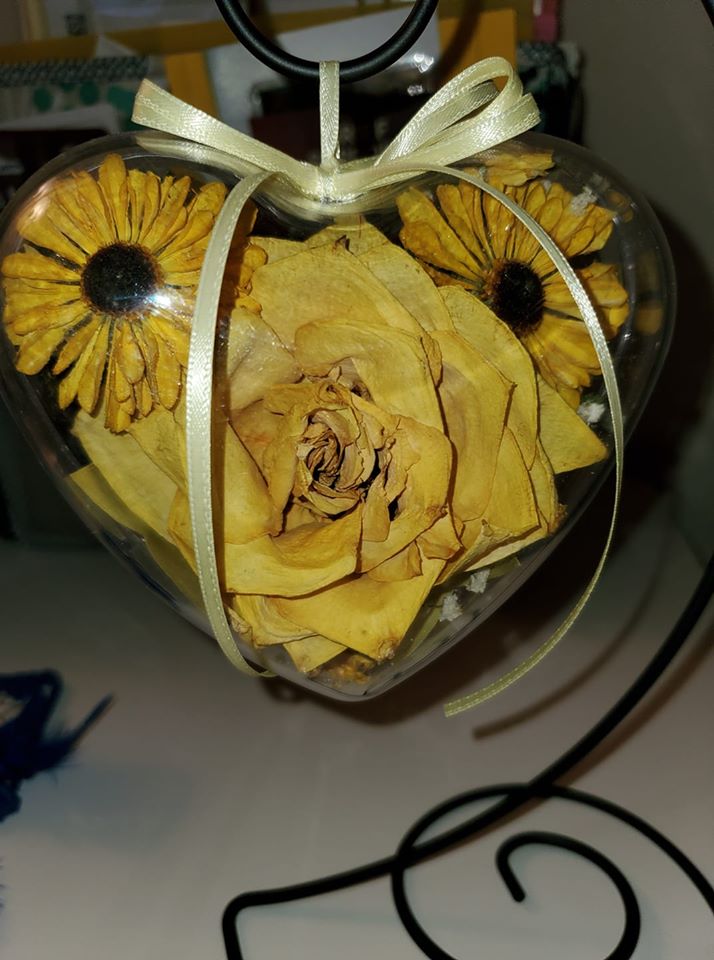 Desna did an amazing job preserving flowers from my husbands funeral service.
Susie Wilson-Kerr Harty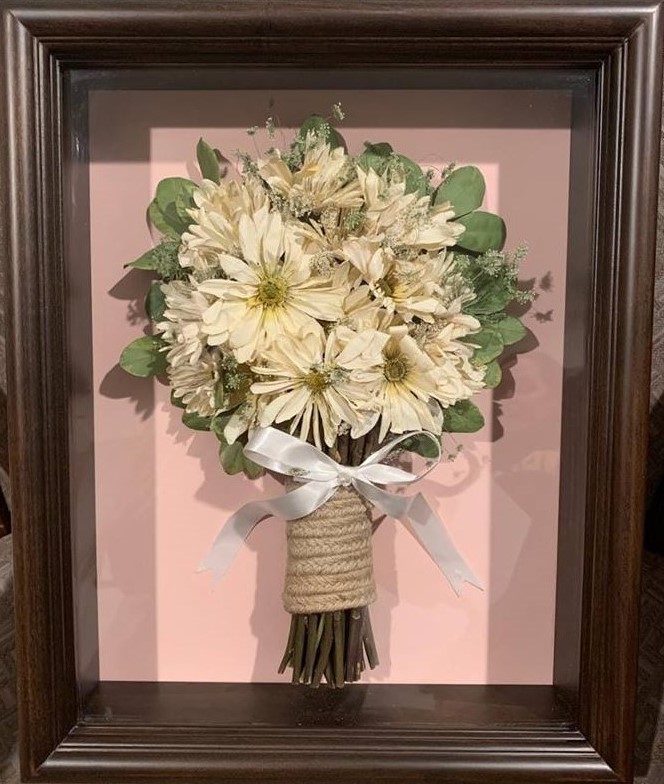 Desna did a beautiful job. We are 2 hours from her and she was great with working around our schedule. Highly recommend.
Lisa LeSuer
Outstanding work, service and communication! 5 star recommendation. We will be back!
Chanli DuVall
I loved the flowers Desna made for my wedding! I asked for a rustic bouquet to go along with my wedding theme and got exactly what I wanted. Was very pleased with the professional service and with the outcome. The flowers were beautiful! Waiting on my frame to arrive with my preserved flowers and can't wait!
Kasey Snell